Texas faces enormous challenges. Today, our urban centers and rural communities are facing unparalleled challenges and as financial inequality increases and the number of children in poverty grows, more and more families are unable to overcome the risk factors that perpetuate multi-generational poverty. In the midst of these financial and familial struggles, too often our schools are unable to meet the challenge of preparing children for success in a global economy. More and more children are arriving at school with severe emotional distress and already significantly behind many of their peers. There are not enough Head Start slots for children who need them and parents who want them.
Please consider a gift to Central Texas families in need.
Giving Opportunities:
For general donations and to check for corporate matching donations, visit us at Give Direct: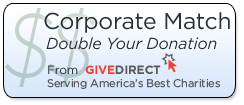 Amazon Smiles on Child Inc and you can too by making a purchase on Amazon Smile!
Giving Tuesday Trikes for Tots!
Learning to ride a bike helps build gross motor skills, gives a child a sense of self-confidence, and promotes habits that lay the foundation for lifelong healthy living. Studies show that regular outdoor activity during a child's learning day not only gives them the opportunity for exercise, but also can lead to increased attention and learning in the classroom. Join us in the #unselfie movement and help us raise funds for bikes and helmets for our Head Start kids!
Is this in honor of someone?
Certified by Independent Charities of America, Child Inc is a 501(c)3 charitable organization, and your donations are tax deductible. The Independent Charities Seal of Excellence is awarded to the members of Independent Charities of America and Local Independent Charities of America that have, upon rigorous independent review, been able to certify, document, and demonstrate on an annual basis that they meet the highest standards of public accountability, program effectiveness, and cost effectiveness. These standards include those required by the US Government for inclusion in the Combined Federal Campaign, probably the most exclusive fund drive in the world. Of the 1,000,000 charities operating in the United States today, it is estimated that fewer than 50,000, or 5 percent, meet or exceed these standards, and, of those, fewer than 2,000 have been awarded this Seal.